Upgrading Your IT?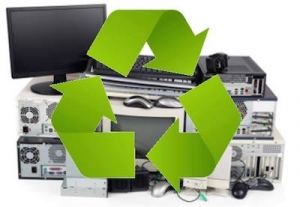 Tips For Disposing of Your Old IT Equipment
As one of the fastest growing streams of waste in Europe, old electrical equipment is becoming a landfill nightmare. And with the average lifespan of corporate IT equipment spanning two or three years, recycling computers and ensuring you dispose of old computers correctly is paramount to sustainability, as well as ensuring your company stays compliant with the government's WEEE directive. So if you're in the process of upgrading your IT systems, here are some tips for disposing of IT equipment efficiently and in line with current legislation.
1. Secure sensitive data
With data theft a growing concern, ensuring you erase all sensitive data before recycling computers and other electronic devices is paramount. Take reasonable steps to delete all personal data from devices by clearing all files and reformatting hard drives. If you're unable to do this, Recycle Your Tec offers FREE data erasing as part of our recycling platform, this is fully compliant with the current GDPR rulings.
2. Identify who is responsible for computer disposal
Managing corporate IT assets can be a mammoth task, and when it comes to replacements of PCs, monitors, laptops, or servers, a company's priority is to reduce downtime during the switchover process, so having someone dedicated to the management of your IT assets is a good way of ensuring that downtime is limited. When you're at the stage of disposing of computers, your IT asset manager or IT team should have a process for logging all necessary repairs, replacements and disposals. That way you know that the replacement process will go as smoothly as possible, once he items have been identified as to be recycled, documenting a list for Recycle Your Tec is ideal, however if your unable to, a quick count up is more than enough.
3. Dedicate some storage space for IT recycling
Disposing of IT equipment doesn't always mean that you'll be able to get rid of the old assets straight away. As the new PCs arrive, will your IT team immediately be on hand to collect and dispose of your electronic waste? If that isn't the case then you may need some suitable storage space for the equipment before recycling can be arranged. For an effective and swift IT recycling process, compartmentalise your old IT equipment in accordance with the WEEE directive. This can help you to organise the equipment into different types of e-waste while in storage so that removal and disposal is as efficient as possible, once everything is ready to go, a quick call to us here at Recycle Your Tec and we're arrange a FREE collection.
4. Work with a suitable computer recycling organisation
The WEEE (Waste Electrical and Electronic Equipment) directive is a set of regulations brought about by the European Commission in order to properly manage the disposal of all electrical equipment, ensuring that treatment and recycling is improved and also to ensure that hazardous substances emitted from electrical equipment are dealt with safely. Working with a reliable recycling organisation can remove the worry that you're not in compliance with recycling regulations dictated by the WEEE directive. They will be able to organise the collection, and responsible recycling or disposal of your IT equipment, taking the pressure off your internal IT team and saving your company valuable time, we ensure that everything is collected, data wiped for FREE, while looking to provide value back to the school, best of all we guarantee the items won't end up in a landfill. There isn't many that can make these promised.
5.Have you got the correct documentation?
This point directly follows on from working with us. With our knowledge, you won't have to worry about getting hold of and completing the documentation needed for proof of compliance, we provide this all FREE as part of our recycling program. Data ersings certifications will be provided once the hard drive are completed wiped to military guarding.
Here at Recycle You Tec, we want to make recycling as easy as possible, even for the less technically minded personnel, simply
Identify and document the items needed to be recycled, contact us at Recycle Your Tec, sit back in the notion that the item will be taken care of ro current GDPR regulations, and provided a new home in schools and business worldwide.
All this for FREE, while potentially earning the school some money to help with upgrades, what are you waiting for.
www.recycleyoutec.com
https://www.almwholesaleltd.com/wp-content/uploads/2018/04/ALM-Wholesale-Logo.jpg
2179
2813
Ross
https://www.almwholesaleltd.com/wp-content/uploads/2018/04/ALM-Wholesale-Logo-300x232.jpg
Ross
2018-10-02 13:42:23
2018-10-02 13:43:52
Upgrading Your IT?