Tech History – Windows 95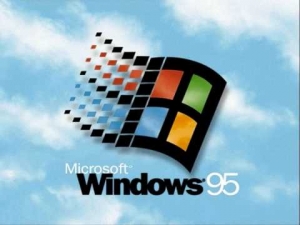 Windows 95 Released
Kicking off one of the largest product launches in technology history, Microsoft releases the highly anticipated Windows 95. More than one million copies was sold in the first four days of its release, Windows 95 release included a commercial featuring The Rolling Stones' 1981 single "Start Me Up" (a reference to the Start button)
Windows 95 merged Microsoft's formerly separate MS-DOS and Windows products, improvements over its predecessor, Windows 3.1, most notably in the graphical user interface (GUI) and in its simplified "plug-and-play" features. There were also major changes made to the core components of the operating system, such as moving from a mainly co-operatively multitasked 16-bit architecture to a 32-bit preemptive multitasking architecture.
Dependence on MS-DOS
To end-users, MS-DOS appears as an underlying component of Windows 95. For example, it is possible to prevent the loading of the graphical user interface and boot the system into a real-mode MS-DOS environment. This sparked debate amongst users and professionals regarding the extent to which Windows 95 is an operating system or merely a graphical shell running on top of MS-DOS
User interface
Windows 95 introduced a redesigned shell based around a desktop metaphor; the desktop was re-purposed to hold shortcuts to applications, files and folders.
In Windows 3.1 the desktop was used to display icons of running applications. In Windows 95, the currently running applications were displayed as buttons on a taskbar across the bottom of the screen. The taskbar also contained a notification area used to display icons for background applications, a volume control and the current time.
The Start menu, invoked by clicking the "Start" button on the taskbar, was introduced as an additional means of launching applications or opening documents. While maintaining the program groups used by its predecessor Program Manager, it also displayed applications within cascading sub-menus.
Windows 95 originally shipped without Internet Explorer, and the default network installation did not install TCP/IP, the network protocol used on the Internet. At the release date of Windows 95, Internet Explorer 1.0 was available, but only in the Plus! add-on pack for Windows 95, which was a separate product. The Plus! Pack did not reach as many retail consumers as the operating system itself.
Legacy
Many features that have since become key components of the Microsoft Windows series, such as the Start menu and the taskbar, originated in Windows 95. Neil MacDonald, a Gartner analyst, said that Windows 95 "was a quantum leap in difference in technological capability and stability." Ina Fried of CNET said that "by the time Windows 95 was finally ushered off the market in 2001, it had become a fixture on computer desktops around the world.
Three years after its introduction, Windows 95 was succeeded by Windows 98. Microsoft ended support for Windows 95 on December 31, 2001.
Happy 23rd Birthday Windows 95.
This blog was completed by ALM Wholesale Ltd
Visit our website here.
https://www.almwholesaleltd.com/wp-content/uploads/2018/04/ALM-Wholesale-Logo.jpg
2179
2813
Ross
https://www.almwholesaleltd.com/wp-content/uploads/2018/04/ALM-Wholesale-Logo-300x232.jpg
Ross
2018-08-28 13:17:37
2018-08-28 13:24:35
Tech History – Windows 95