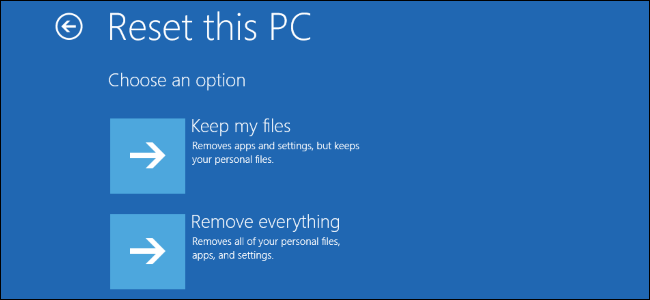 How to factory reset a computer
How to factory reset a computer
If you're getting rid of an old computer, it's important to completely wipe your data from it. A factory reset will return it to its 'out of the box' state, with your files, programs and profile setup all removed.
In the guide below, we explain how to factory reset a Windows computer or even a Google Chromebook.
Even if you're not recycling your old computer or giving it away, you may have cause to do a factory reset. For instance, you may wish to reset, restore or reinstall Windows to fix bugs or to get a speed boost if the operating system has been dragging its feet.
Best order for a factory reset
For a 'complete wipe' of your computer (if you're getting rid of it), we recommend three steps, in the following order:
Back up the data, you wish to keep
Use data shredding software to clear your computer
Perform a factory reset
The exception is with Windows 10, which gives you a built-in data shredding option as you're performing the factory reset, so you can skip straight from Step 1 to Step 3. Scroll down for more on how to factory reset Windows 10.
Factory reset vs data shredding
A factory reset isn't a guarantee that all the data on the computer will be wiped. The data may still be hidden in a format that the computer itself can't 'see'. But, if someone were to use data-recovery software on your second-hand computer, they could piece the data back together quite easily – photos, files, the lot.
Using data-shredding software is a smart way of ensuring that your personal files are gone and gone for good. You can rest easy knowing that Recycle Your Tec can completely remove all of your important information and personal images.
Back up your files and programs first
It sounds obvious, but it bears repeating make sure all the files on your computer are backed up before you wipe it. You can either do an automated backup or manually drag and drop the files you want onto an external hard drive.
You can make automated file backups by clicking Start > Settings > Update & security > Backup, and you can create a system image of your entire PC by selecting Backup and Restore (Windows 7) and clicking Create a system image.
Once you're done with your files, don't forget your programs. Be sure that you have the licence keys for any paid-for software that you run. These may be available in the About section of the program's menu. Or, they may be with the installation disc or purchase confirmation email you originally used.
You'll need these licence keys when you come to reinstalling paid-for software onto a new computer.
How to factory reset in Windows 7 or 8.1
In Windows 7 and 8.1, click the Start button, search recovery then click Recovery. This will bring up the recovery program.
Click Advanced recovery methods and then Return your computer to the factory setting.
How to factory reset Windows 10
Windows 10 makes it easy to reinstall your operating system.
Click Start > Settings > Update & security > Recovery. Here, you should see various options. Each performs a different type of recovery.
Click Get started here for two choices – Keep my files or Remove everything. The latter is what you want if you're getting rid of your computer and wish to factory reset it first.
Windows 10 'refresh': Keep my files
Use this method as a last resort only for dealing with operating system errors or frequent crashes, if you wish to keep your Windows laptop.
Important: while this method won't remove your files, it can remove your installed apps or programs. This means you'll need to have the product codes ready to re-enter when you re-install them. This is particularly important for paid-for software such as Microsoft Office or your security software. If you don't have your installation discs to hand, find and note down your unique software licence codes for when you reinstall apps.
This process leaves your personal files intact but replaces your system files. It uninstalls your apps and programs, so you'll need to reinstall them manually once the process is complete.
Factory reset Windows 10: Remove everything
Remove everything wipes your PC with a fresh installation of Windows 10. It should speed your PC up, but you'll have to restore your files and apps afterwards. This means copying files back over from a hard drive, and in the case of apps or programs, reinstalling them all over again.
You'll see an extra option called Remove files and clean the drive. This performs additional data-wiping, rather like using data-shredding software.
Factory reset a Google Chromebook
You can clear all data stored on your Chromebook by initiating a procedure called a 'powerwash'. This might be useful if you're experiencing problems with your user profile, or if you wish to give away or sell your Chromebook.
Follow these steps below to reset your Chromebook:
Click the status area in the lower-right corner, where your account picture appears.
Select Settings and click Show advanced settings at the bottom of the page.
Find the Powerwash section and click Reset.
In the dialogue box that opens, select Restart.
If you're not confident enough to factory reset your items but want a professional company to assist for FREE then we highly recommend Recycle Your Tec.
| HASSLE FREE | ENVIRONMENTALLY FRIENDLY | COMPUTER SYSTEM RECYCLING |
Recycle Your Tec will dispose of & recycle your old IT equipment. You'll know where your redundant assets are at every stage of their disposition and get the best market value for any that are reusable. Plus, you'll gain peace of mind from choosing a socially and environmentally responsible solution when recycling your redundant computer systems.
https://www.almwholesaleltd.com/wp-content/uploads/2019/04/ximg_57b0ee98afe14.png.pagespeed.gpjpjwpjwsjsrjrprwricpmd.ic_.21f5d6cmWn.png
300
650
Ross
https://www.almwholesaleltd.com/wp-content/uploads/2018/04/ALM-Wholesale-Logo-300x232.jpg
Ross
2019-04-30 11:14:35
2019-04-30 11:15:14
How to factory reset a computer