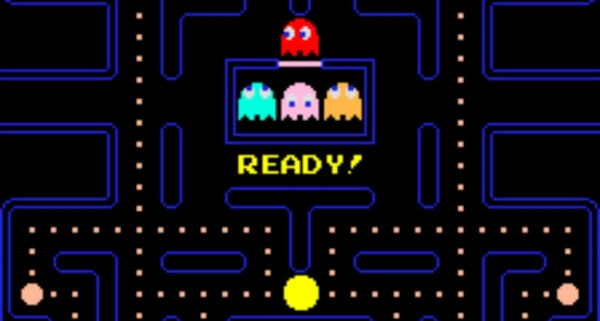 This Month In Tech History – PAC-MAN Is Born.
This Month In Tech History.
PAC-MAN is born.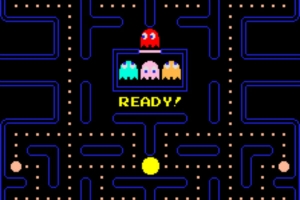 October 10, 1980
Midway releases the video game Pac-Man to arcades in North America. While the Japanese release under the name "Puck-Man" occurred in May of that year, the game's popularity didn't take off until being released in the United States. Pac-Man will become the first true mega-hit video game in history, sparking "Pac-Man Fever" and catapulting the video game industry into mainstream culture.
Pac-Man[a] is a maze arcade game developed and released by Namco in 1980. The original Japanese title of Puck Man was changed to Pac-Man for international releases as a preventative measure against defacement of the arcade machines.[7] Outside Japan, the game was published by Midway Games as part of its licensing agreement with Namco America. The player controls Pac-Man, who must eat all the dots inside an enclosed maze while avoiding four coloured ghosts. Eating large flashing dots called power pellets causes the ghosts to turn blue, allowing Pac-Man to eat them for bonus points. It is the first game to run on the Namco Pac-Man arcade board.
The development of the game began in April 1979, directed by Toru Iwatani with a nine-man team. Iwatani wanted to create a game that could appeal to women as well as men, as most video games at the time were war- or sports-themed. Although the inspiration for the Pac-Man character was, reportedly, the image of a pizza with a slice removed, Iwatani has said he also rounded out the Japanese symbol "kuchi", meaning "mouth". The in-game characters were made to be cute and colourful to appeal to younger players. The original Japanese title of Puckman was derived from the titular character's hockey-puck shape.
Pac-Man is a widespread critical and commercial success. The game is important and influential, and it is commonly listed as one of the greatest video games of all time. The success of the game led to several sequels, merchandise, and two television series, as well as a hit single by Buckner and Garcia. The Pac-Man video game franchise remains one of the highest-grossing and best-selling game series of all time, generating more than $14 billion in revenue (as of 2016) and $43 million in sales combined. The character of Pac-Man is the mascot and flagship icon of Bandai Namco Entertainment and has the highest brand awareness of any video game character in North America.
Guinness World Records has awarded the Pac-Man series eight records in Guinness World Records: Gamer's Edition 2008, including "Most Successful Coin-Operated Game". On June 3, 2010, at the NLGD Festival of Games, the game's creator Toru Iwatani officially received the certificate from Guinness World Records for Pac-Man having had the most "coin-operated arcade machines" installed worldwide: 293,822. The record was set and recognized in 2005 and mentioned in the Guinness World Records: Gamer's Edition 2008, but finally actually awarded in 2010.
The Pac-Man character and game series became an icon of video game culture during the 1980s, and a wide variety of Pac-Man merchandise has been marketed with the character's image, from t-shirts and toys to hand-held video game imitations and even specially shaped pasta. General Mills manufactured a cereal by the Pac-Man name in 1983.
The game has inspired various real-life recreations, involving either real people or robots. One event called Pac-Manhattan set a Guinness World Record for "Largest Pac-Man Game" in 2004. The business term "Pac-Man defence" in mergers and acquisitions refers to a hostile takeover target that attempts to reverse the situation and take over its would-be acquirer instead, a reference to Pac-Man's energizers. The game's popularity has led to "Pac-Man" being adopted as a nickname, most notably by boxer Manny Pacquiao, as well as the American football player Adam Jones.
On August 21, 2016, in the 2016 Summer Olympics closing ceremony, during a video which showcased Tokyo as the host of the 2020 Summer Olympics, a small segment shows Pac-Man and the ghosts racing against each other eating dots on a running track.
In 2008, a feature film based on the game was in development.
The Pac-Man character appears in the film Pixels (2015), with Denis Akiyama playing series creator Toru Iwatani. Pac-Man is referenced and makes an appearance in the 2017 film Guardians of the Galaxy 2.
In Sword Art Online The Movie: Ordinal Scale where Kirito and his friends beat a VR Pac-Man game called PAC-Man 2024.[102] Iwatani makes a cameo at the beginning of the film as an arcade technician. In the Japanese tokusatsu film Kamen Rider Heisei Generations: Dr. Pac-Man vs. Ex-Aid & Ghost with Legend Riders, a Pac-Man-like character was introduced as the main villain.
The 2018 film Relaxer uses Pac-Man as a strong plot element in the form of a 1999 couch-bound man who attempts to beat the game (and encounters the famous Level 256 glitch) before Y2K occurs.
In April 2011, Soap Creative published World's Biggest Pac-Man working together with Microsoft and Namco-Bandai to celebrate Pac-Man's 30th anniversary. It is a multiplayer browser-based game with user-created, interlocking mazes.
In 2016, an in-app version of Pac-Man was introduced in Facebook Messenger. This allows users to play the game against their friends while talking over Facebook.
What a game this was and continues to be.
https://www.almwholesaleltd.com/wp-content/uploads/2019/10/Pac-man11.jpg
400
600
Ross
https://www.almwholesaleltd.com/wp-content/uploads/2018/04/ALM-Wholesale-Logo-300x232.jpg
Ross
2019-10-14 09:39:20
2019-10-14 10:25:06
This Month In Tech History – PAC-MAN Is Born.